Dotonbori is a large scale downtown along the south bank of the Dotonbori-gawa Canal. Osaka is known as the gastronomists' town, and thus the entire area of Dotonbori is thronged with an unbelievable number of restaurants and amusement facilities, and is dearly loved by the Osakaites. There are theaters that play traditional puppet shows Bunraku, storytellers' halls and other popular entertainment as well as a number of movie theaters.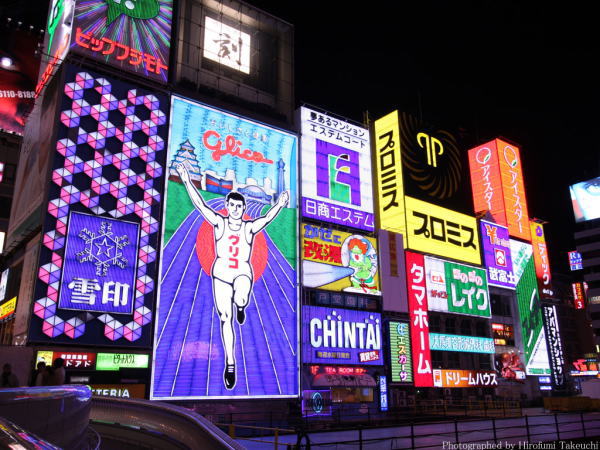 Dotonbori is often selected as a scene in the Japanese and foreign movies as the symbol of Osaka. There are promenades on both sides of the Dotonbori-gawa Canal to offer better environment for a downtown, which are always attracting visitors and residents. On both sides of the Dotonbori-gawa Canal are lined with advertisements and neon signs. The entire sides of buildings are decorated with neon lamps. The illuminated signboards and neon lamps reflect on the Dotonbori-gawa Canal at night, making Dotonbori even merrier.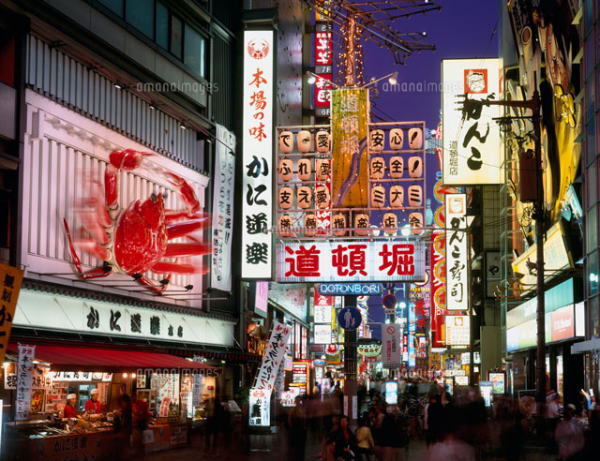 There is the Hozen-ji Temple built in the 17th century on the first street to the south of street along the Dotonbori Canal. A paper lantern hangs at the front of the temple, which gives off pale orange light at sunset. The stone paved street in front of the Hozen-ji Temple is called the Hozen-ji Yokocho Lane. Shops with a beautiful latticework stand side by side as a reminiscence of the Edo Period in the 17th century and they give off peaceful atmosphere.